Facebook now does healthcare, can they be trusted?
Matt Davies - Head of strategy & Innovation.
It's no secret that missed appointments cost our NHS huge amounts of cash on an annual basis. Putting this into figures, there are more than 15 million 'no show' patients each year, racking up a bill of more than £216million pounds (each appointment costs an average of £30).
So anything that helps our under-pressure NHS in addressing this must be good news, right?
Over the Atlantic in the U.S., Facebook users are interacting for the first time with a Facebook feature that *could* finally stop the wastage of missed appointments. Known as Facebook Preventative Health, the app not only reminds patients about check-ups and progress, it also provides recommendations from the CDC and partner organizations, based on age and gender.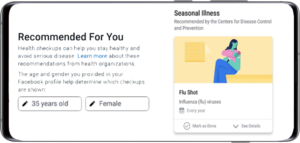 Users also have an option to directly connect to resources for tests and other health-related concerns.
"Health is particularly personal, so we took privacy and safety into account from the beginning. Personal information about your activity in Preventive Health is not shared with third parties, such as health organizations or insurance companies, so it can't be used for purposes like insurance eligibility".
Which brings us roundly onto that sticky issue of privacy – a topic that's caused Facebook untold pain over the past 24 months…
Facebook and privacy – an epic tale of politics, x and y
When the Cambridge Analytica scandal erupted in early 2018, many predicted monumental change for the social giant. Some said it would lead to an exodus of users, others suggested a plummeting share price. 12 months on, and we now know that its likes, shares and posts have fell by 20%,  while its share price is still recovering from a shaky couple of years.
At the time of this turbulence, many thought that Facebook's reputation problem would take this project off the table. Even they did (apparently)…
"This work has not progressed past the planning phase, and we have not received, shared, or analysed anyone's data," a Facebook spokesperson told CNBC in April of 2018. However the month before, Facebook had been in talks with several health organizations, including Stanford Medical School and American College of Cardiology, about signing a data-sharing agreement.
This led to the project being put on ice (allegedly)…
"Last month we decided that we should pause these discussions so we can focus on other important work, including doing a better job of protecting people's data and being clearer with them about how that data is used in our products and services".
And yet 18 months later, the feature is up, live and running. Still, we are where we are. And given the problems with missed NHS appointments in the UK, it's worth considering whether this tool could be a part of the solution.
Meet the man behind Facebook's Preventive Health tools
Behind Facebook's foray into the medical world is Dr. Freddy Abnousi – a cardiologist and the social media giant's head of healthcare research.
"Let's say you're 52 years old. One of the things that will come to you — based on the American Cancer Society's recommendations — is that you should have a colorectal cancer screening".
– Dr Freddy Abnousi, head of healthcare research
Dr. Freddy Abnousi has worked alongside several health bodies and institutes to bring Facebook's Preventive Health tools to market; this includes the American Cancer Society; the American College of Cardiology; the American Heart Association; and the Centres for Disease Control and Prevention.
"Heart disease is the number one killer of men and women around the world. By incorporating prevention reminders into platforms people are accessing every day, we're giving people the tools they need to be proactive about their heart health".
-Richard Kovacs, president of the American College of Cardiology
"We've contributed our content and resources to the Facebook Preventive Health tool to empower Americans to take the first step to know about and take action to lower blood pressure, blood sugar and cholesterol".
-Eduardo Sanchez, MD, Chief Medical Officer for Prevention at the American Heart Association
"One of the main reasons people don't get screened for cancer is that they don't realize their own risk. We hope this program will help by building awareness about important recommendations from expert organizations".
-Richard Wender, MD, Chief Cancer Control Officer at the American Cancer Society
It's clear that Facebook Preventative Health has the potential of improving health outcomes for patients, and could well be the silver bullet UK doctors' surgeries need to take on missed appointment rates. But the question is whether users will be happy to trust Facebook with appointment data and (the even bigger question) whether this could mark the start of Facebook asking for more sensitive medical information.
There's undoubtedly value in an app with features such as this, but it's yet to be seen just whether people will view their relationship with Facebook as healthy enough to become a user of its features.
https://www.digitalhealth.net/2019/10/healthcare-apps-safety-standards/ 
Apps and disabilities – the good, the bad, the ugly
Last week, we wrote about how healthcare websites should be changing health outcomes for those with disabilities (if only they were accessible in the first place).  Now we turn to apps, which should probably be of even more help for those with disabilities. After all, smartphones are mobile – they can kept on the person, and users are well-versed with using voice control (ideal for everyone from those with fine motor problems to blindness).
This is even more important given that individuals with disabilities are MORE likely than people without disabilities to suffer poorer overall health, as well as more limited access to adequate health care.
So, how does the world of healthcare apps stack up?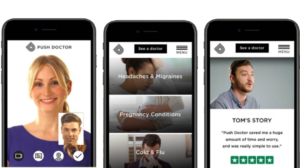 The world of digital healthcare apps is thriving. There are now remote doctors at the beck and call of patients (PushDoctor being one example), and an NHS Library of apps that range from Baby and Child First Aid to being community-focussed (such as 'HealthUnlocked' – an app that helps patients find and connect with people with similar health conditions).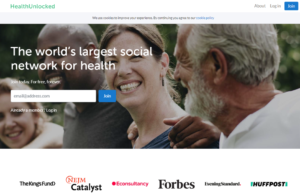 With four million health apps downloaded every day, patients can now take their pick from more than 325,000. However this vast choice means that consumers have a tough time identifying the apps that are accessible, which is where ORCHA step in.
ORCHA has something to say about healthcare apps and accessibility…
ORCHA are world leaders in health app reviews and prescription services, and are considered as the go-to experts in the field of app analysis.
Sadly, their latest survey findings on accessibility are downright depressing…
"We believe that digital health apps are one of the most important tools available to help tackle health issues in an ageing population that's facing more complex, long-term problems.
The fact that only 15% of apps that we review meet the minimum standards show there is a desperate need to regularly and properly assess the apps available to ensure that people are protected against the serious risks associated with downloading ineffective or even harmful apps".
-Liz Ashall-Payne, ORCHA's chief executive
In the study, 75% of apps aimed at people with blood pressure concerns did not meet the ORCHA quality threshold. And high blood pressure is the largest single known risk factor for cardiovascular disease and related disability. It's also a condition that disproportionally affects older people – which means that age-related issues (such as the loss of fine motor skills) will be more prevalent.
"One of the areas we are beginning to explore with ORCHA is whether or not we can consider what patient safety would be in part of the review process.
Essentially what we want is patient safety embedded in all of the review processes so that we can inform and guide clinicians and inform and guide patients.
And that there is appropriate research on their use and their impact so that information can feed the improvement of standards".
-Helen Hughes, chief executive of charity Patient Safety Learning
But it's not all bad…
There are some shining examples of apps that are empowering those with disabilities. From geo-location apps that help wheelchair users around town, to others that assist users in making sense of their condition.
MyHealthGuide
Providing a way for people to hold on to and make sense of the information they are given about their health and wellbeing.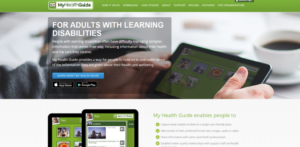 My Health Guide is an iPad-based, multi-media guide that delivers better health outcomes, less confusion and increased confidence for users with learning disabilities.
The app, commissioned and funded by NHS England and SBRI Healthcare, enables users to capture video, audio, images and text in a single, user-friendly format and share selected information with carers, guardians and health professionals.
Read the story of MyHealthGuide
Be My Eyes
Connecting blind people, or those with visual impairments, to volunteer helpers all around the world via a live video chat.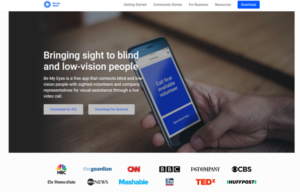 This app helps blind people with everyday tasks, from navigating in new surroundings to checking the expiry date on a pint of milk.
Wheelmate
Parking and toilet facility-finding wherever in the world you are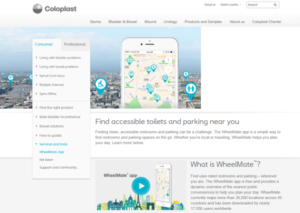 Wheelmate is an app dedicated to locating wheelchair accessible toilet facilities and parking spaces. With over 30,000 locations across 45 different countries, Wheelmate can support its users as they explore new places.
Spread the Sign
Sign language-learning made easy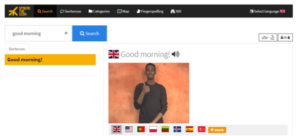 Spread the Sign is known for being one of the largest sign language dictionaries on the app market, with over 300,000 signs available, with more new additions being added year on year.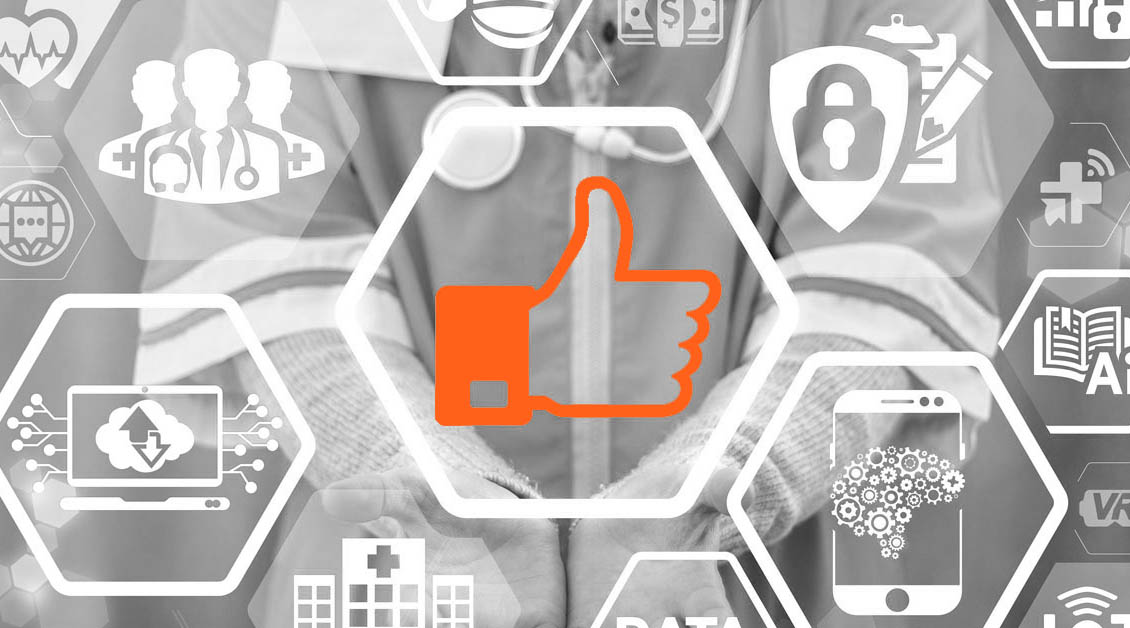 Monthly Archives
Categories
Share